West-Westwoods state
State in the Confederacy

Population: 328

Capital: Western Westwoods

Counties: 2

Denonym: Herefordian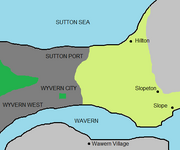 West-Westwoods is the westernmost part of the northern mainland of the Confederacy. It's mainly suburban in the south, and rural in the north. Cocoa and other tropical excavations is a large industry in the north. To the east is Westwoods state, to the south is the New river and New Island, and to the west is Cocoa river and Farmland state.
West-Westwoods State: 328
Western Westwoods: 267
Liane: 61
Ad blocker interference detected!
Wikia is a free-to-use site that makes money from advertising. We have a modified experience for viewers using ad blockers

Wikia is not accessible if you've made further modifications. Remove the custom ad blocker rule(s) and the page will load as expected.