Southland State
State in the Confederacy

Population: 535

Capital: Southland-on-Thine

Counties: 5

Denonym: Herefordian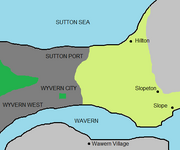 Southland is a semi-independent state in the Confederacy of Outer Herefordshire. It's administrative centre is in Southland-on-Thine, which is also the largest settlement, though most state management affairs happens in the Confederate Capital. Southland has 469 inhabitants, and is divided into four counties: Southland-on-Thine, New Westfield, Sugar Bay and Continent. Southland School is situated in Southland-on-Thine.
Southland: 535
Southland-on-Thine County:153
New Westfield County: 147
Sugar Bay County: 91
Continent County: 78
Sugarville County: 66
Ad blocker interference detected!
Wikia is a free-to-use site that makes money from advertising. We have a modified experience for viewers using ad blockers

Wikia is not accessible if you've made further modifications. Remove the custom ad blocker rule(s) and the page will load as expected.