South Sea state
Independent state in the 2nd Shropsherean Federation
Population: 756
Capital: Kington
Counties: 3
Major settlements: Oswestry, Plank Harbor, Kington
Denonym: Shropshereans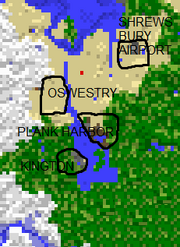 The South sea is in the central-south of the known word. The state is a member of the political federation of the 2nd Shropsherean Federation . The population is INSERT, which makes it the second largest member state in the Federation outside New Shropshire City . The administrative center is Kington. Other major settlements include Oswestry and Plank Harbor. The Shrewsbury airport is located to the norteast in the Southern Desert.
Politics & Administration
Edit
The South Sea is divided into three counties. The three counties are: Southern Desert, Plank Harbor, and South Sea.
South Sea County
Edit
The South Sea cunty is the southernmost county, a quite large one that include most of the bankside of the South Sea as well as the forest areas to the west and south. Kington is the administrative center, west in the county. The ruins of South Sea City lies on the south bank of South Sea, where almost no one lives anymore. Main occupations are forestry and fishing. Total of 155 inhabitants.
Southern Desert County
Edit
The Southern Desert county is the northernmost county that covers the desert area between South Sea and Middle Sea. The South canal is artificially built to connect the seaway between the two. In the north lies a remote wasteland, but the Shrewsbury Airport is built in the northeastern corner with easy acces from Middle Sea and NSC. Besides agriculture and fishing, the county, with Plank harbor as the largest settlement, functions mainly as a suburb to NSC. Total population of 277.
Osswestry County
Edit
Oswestry is a suburb to New Shropshire City, planted on the bank of the South Canal, artificially built to connect the state to the city. Total of 324 inhabitants.
Railroads
Edit
South Line
Edit
South Terminal - Oswestry (-Island - Park - NS Central)
Airport express
Edit
South Terminal (- Shrewsbury Airport - Parliament - NS Central)