Rivers are a common topographical element in New Shropshire . 
Main Rivers
Edit
The River
Edit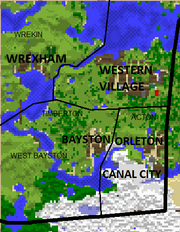 The Seed is a river that runs through
Western Villages
state. The river is stagnant water basin that lies between
Middle Sea
and
North Sea
. For long it was blocked, to never actually enter the Middle Sea. After the removal of the former NS zoo & amusement park, and the establishment of Orleton county, private investors bought the groun that is today Canal City, and built a canal going indoors for a long range to finally open the river Seed to the Middle Sea for cargo and passenger transport.
The river's main function in addition to cargo freight between NSC and New Forest City is as water source for the people of the Western Villages. Alongside it lies settlements such as Bayston, West Bayston, Timberton and Wrexham. The Wrexham canal connects it to the North Sea, where the Village Port lies on the estuary.
Tributaries
Edit
North River
Edit
East River
Edit
Northland
Edit