North Sea Region
Region north of North Sea
Nortton Republic
Sheepston
Nassau
Ryth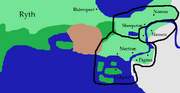 North Sea may also refere to North Sea (Seas)
North Sea is a region outside New Shropshire, though some states are reckoned Shropsherean. 
Nortton Republic
Edit
Nortton Republic
Subject of Northern Region
Population: 280
Centre: Nortton Town
People: Forestian (Shropsherean)
Nortton is a subject of Northern Region, a dependent state. Still, it is a republic that functions independently. Former is was a settlement to New Forest State, then to Northern Region before it got its own self-governance. The administrative centre is in Nortton Town, a town with a population of approximately 160 people. Other areas include the Pigton rural area and the Fisherislands in the North Sea.
Sheepston
Edit
Sheepston
Independent state
Population:
Centre: Sheepston
Nassau
Independent state
Population:
Centre: Nassau Market
Ryth
Tribal chiefdoms 
Population:
Centre: Ridersport/nomad