New North
Region north of West Sea
Manshire
Landshire
Birchshire
Valeshire
The Masonry Republic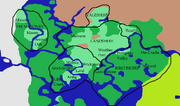 The New North is a region outside New Shropshire, though it by some are reckoned Shropsherean. It is located in the far north, to the north of West Sea. The name originates from the 2nd Recession Period, when people started settling in the area north of what was then reckoned "The North", the states of Northland and Northern Region. Most of the topography is dominated by the typical birchforests, the plain and the rivers. The three most important rivers are The Cradle, Mainern and Stem.
Landshire
Edit
Birchshire
Edit
Valeshire
Edit
The Masonry Republic
Edit
The Masonry
Independent republic
Administrative center: The Mason
Major settlements: First Oak, The Mason, Sprucely, Second Oak, Midplain, Allium Streams
Population: 776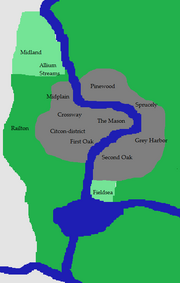 The Masonry is a republic in the west of the New North. It is a republic after the Shropshire-model, which means the entire country is one electoral districts, while votes are gathered in a number of districts. Most is centered around the Mason, or First Oak City, the city centre and its suburbs. In addition is the Midland, Railton and Fieldsea areas. The state is the only outside New Shropshire with its own railroad system.
The Mason
Edit
The Mason is the city centre, and the western part of the city. While most state institutions, as well as The Masonry, the national assembly, lies here, the city also includes areas like the Crossway, where the main railroad station is situated, and First Oak and City Country-district and Midplain areas, major residential areas. 240 inhabitants.
Grey Harbor
Edit
Grey Harbor is the eastern part of the city. The name Grey Harbor describes the grey stone buildings on the most important cargo port of the city. Also included is the Second Oak area and the Oak school. Residential areas include Sprucely, Labor and riverside. 190 inhabitants.
Pincewood is a suburb to the north of the river Stem and the city. 126 inhabitants.
Midland is a rural area to the north in the republic, to the west of the river Stem. The largest settlement is Allium Streams, with approximately 60 people. Totally 110 inhabitants.
70 inhabitants.
40 inhabitants.