Midland state
State in the Confederacy

Population: 405

Capital: Midland City

Counties: 2

Denonym: Herefordian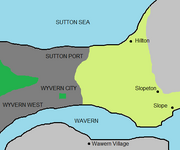 Midland is a suburban residential state to the near east of the city centre of Trade City in the Confederacy. The administrative centre in Midland City and the Eastway area represents an extension to the commercial Norway area. To the north on the hillbank towards Sutton Sea is the Eastdale settlements, a rural touch close to the city centre. Midland park is situated central in the state, and stretches even into neighbour Wyvern in the east, and is a green lung in the city. The School Association is an institution in Eastway that gathers all schools in the Confederacy.
Midland State: 405
Midland City: 306
Eastdale: 99
Ad blocker interference detected!
Wikia is a free-to-use site that makes money from advertising. We have a modified experience for viewers using ad blockers

Wikia is not accessible if you've made further modifications. Remove the custom ad blocker rule(s) and the page will load as expected.