Lenton state
Independent state

Population: 2296

Capital: Lenton City

Counties: 6

Denonym: Len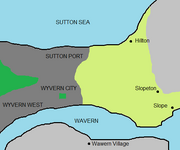 Lenton state covers the southern peninsula of Lenland, with the Aeonian Sea to the south, Seed Sea to the west, Free Sea to the east, and divided from Calmes by the Farmington river. Most of the state is the Lenton City, approximately 90 % of the population, or 2107 inhabitants. The Lenton business community hosts a lot of big companies, only a little smaller than the ones of Riverton and Seedington. Lenport is the second largest port in the area.
Administrative division
Edit
The capital of Lenton state is Lenton Town House in the city centre. The state is divided into six counties, the three sububan/rural counties: Nilen, Quarlen and Orchidlen, and the three citie counties of Lenton City, Lenport and Espark.
Lenton City
Edit
Lenton City is the city centre and near city of Lenton, centered around the Lenland Avenue. In addition to the Lenton Town Hall, the area hosts a gathering of high-rises like the Greyson-Lenton-Tower, and the Andesite Tower. The Beacon Main Station connects the local underground rail system to Calmes, Riverton and Seedland. Beacon, Madleyton and Town is some of the larger local neighbourhoods. Total population of 991.
Lenport City
Edit
Lenport is the western part of the city, on the Seed Sea with one of the world's largest cargo ports, including the large Lenport Shipyard, the world's largest. The County stretches from Handley Park on the end of Lenland Avenue, and westwards on the Portway, and northqwards to Pigton. Total population of 438.
Espark City
Edit
LENTON STATE:
Lenton City: 991
Espark City: 444
Quarlen: 141
Nilen: 121
Orchidlen: 161
(Lenton City: 1663
Political administration
Edit