Farmland state
State in the Confederacy

Population: 449

Capital: Farmtown

Counties: 3

Denonym: Herefordian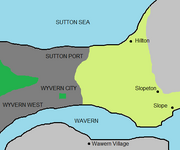 Farmland is the westmost state of the Confederacy, and probably the one that stands most out. It is also the most remote state. The only railroad station ends the Westwoods Line in Farmtown, the only city of the state, and the administrative center. To the westmost is the Runeland area, with its huge wheatfields, and bordering the Aeonian republic. North of Runeland is the Creek area, with a small settlement and some farms on the hillside and creekbank. Along the river Cocoa northwards from Farmtown is a few farms and some forestry industry. Agriculture is paramount to the state.
Farmland State: 449
Farmtown County: 191
Cocoa County: 81
Runeland County: 177
Ad blocker interference detected!
Wikia is a free-to-use site that makes money from advertising. We have a modified experience for viewers using ad blockers

Wikia is not accessible if you've made further modifications. Remove the custom ad blocker rule(s) and the page will load as expected.