East-Westwoods state
State in the Confederacy

Population:

Capital: Norway

Counties: 2 + 1 territory

Denonym: Herefordian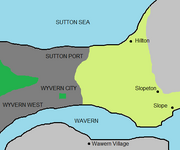 East-Westwoods is the easternmost and most central part of the Westwoods area. From the Confederate Parliament situated southmost, the Norway area goes north around the Norway avenue, which is an important business community, the second largest after Prosperity Island in Trade City. The entire state is reckoned a part of the city. Northshore and Pier is the residential and commercial area to the north, on the bankside of Sutton Sea.
East-Westwoods State: 760
Norway: 464
Northshore: 296
Ad blocker interference detected!
Wikia is a free-to-use site that makes money from advertising. We have a modified experience for viewers using ad blockers

Wikia is not accessible if you've made further modifications. Remove the custom ad blocker rule(s) and the page will load as expected.