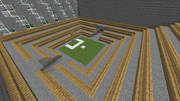 9 block is a game played for entertainment and exercise. The game is played on a 9 times 9 block square field, where it has its name. On the middle of one side is a three block high net which the players are intended to throw into in order to score points.
9 Block Cup (NineBC)
Edit
The NineBC is the most important 9 block game-arrangement through a period. The teams are organized into leagues based on their previous performents. There are three main leagues. Teams from X states participate in the tournament.
The New Shropshire League (1st League)
Edit
| Team | Home stadium/State | Latest ranking |
| --- | --- | --- |
| Westwoods | Park stadium, Westwoods | 1 |
| Valley Midtown | River stadium, Valley City, NSC | 2 |
| Village | Village stadium, Western Villages | 3 |
| Northtip | Westfield Stadium, Northtip, Herefordshire | 4 |
| Empire | Eastern Park stadium, Empire City, NSC | 5 |
| New Forest City | Midplain stadium, Midplain City, New Forest | 6 |
| Cityville-Haven | Cityville stadium, Southern Mainland | 7 |
| Valley Northsea | North Sea stadium, Lower Valley, NSC | 8 |
| West City | Newland Stadium, Newland | 9 |
| Tenbury | Tenbury stadium, Pedestriania | 10 |
| Athens | Athens stadium, Athens | 11 |
| Wavern | Wyvern stadium, Wyvern | 12 |
2nd League
Edit
| Team | Home stadium/state | Latest ranking |
| --- | --- | --- |
| Slope-Hillport | Hillport stadium, Wyvern | 13 |
| Coventry-Trenton | Trenton stadium, Pedestriania | 14 |
| Broadland | Broadland Port stadium, Pedestriania | 15 |
| Oaks | Second Oak stadium, The Masonry | 16 |
| Northplain | Northplain stadium, Northern Region | 17 |
| Northland | Northland stadium, Northland | 18 |
| Isla Nueva | Isla stadium, Athens | 19 |
| Southland | Southland stadium, Southland | 20 |
| Antig-Bricktown | Bricktown stadium, Manshire | 21 |
| Portton | Portton stadium, East Realm | 22 |
| Yeast | Yeast stadium, Herefordshire | 23 |
| West Flange | West Flange stadium, Herefordshire | 24 |
3rd League)
Edit
| Team | Home stadium/state | Latest ranking |
| --- | --- | --- |
| East Approach | Eas Approach stadium, Herefordshire | 25 |
| East River | East River stadium, Eastern Desert | 26 |
| Woolton | Woolton stadium, East Realm | 27 |
| Bayston | Bayston stadium, Western Villages | 28 |
| Lowdale | Lowdale stadium, Lowlands | 29 |
| Reach | Reach stadium, Birchshire | 30 |
| Eastern Desert | Lyde stadium, Eastern Desert | 31 |
| Farmtown | Farmtown stadium, Farmland | 32 |
| Wrexham | Wrexham stadium, Western Villages | 33 |
| Midland | Midland stadium, Midland | 34 |
| Debter | Eastern Park stadium, NSC | 35 |
| Midhill | Midhill stadium, NSC | 36 |